Seminole State to host hybrid, drive-through graduation for Spring 2021
Seminole State to host hybrid, drive-through graduation for Spring 2021
Back by popular demand, the College's hybrid graduation is scheduled for May 4-5.
SANFORD, Fla. (April 27, 2021) – Following the success and positive feedback from its first-ever hybrid, drive-through graduation for the Class of 2020, Seminole State College of Florida will host a graduation ceremony in the same format for its Spring 2021 graduates. The graduation for Spring Term will be May 4 and 5, from 8:30 a.m. to 12:30 p.m., each day on the College's Sanford/Lake Mary Campus. An RSVP and pass are required to participate.
"So many of the faculty, staff and students who participated in our December graduation praised the hybrid, drive-through format that we wanted to offer it again," said Registrar Barbara Rodriguez Lamas whose office oversees graduation. "Even without the traditional pomp and circumstance, it was a great moment for our graduates, many of whom had their vehicles decorated for the occasion, making it truly personal. We're excited to re-create it."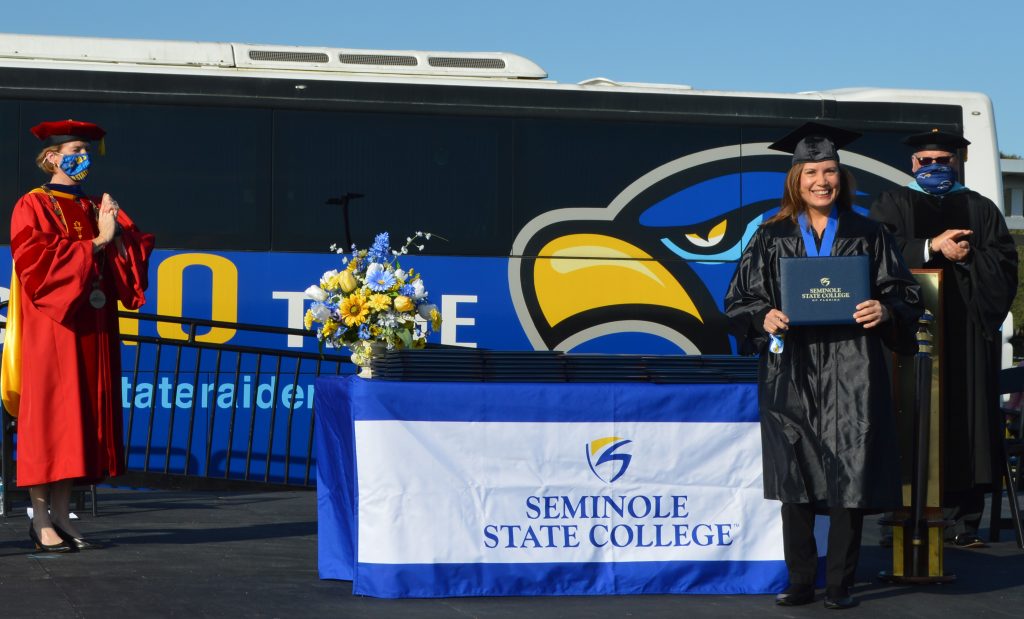 For the hybrid, drive-through graduation, graduates will arrive during the 30-minute time slot they requested. Graduates and the guests in their vehicle will then drive through a marked path featuring balloon arches, congratulatory signs and photo op areas. As an update for the spring event, as they drive through, they will be able to tune in to an FM radio station to listen to upbeat music and speeches similar to what they would hear at a traditional ceremony, including a graduation address from Seminole State President Dr. Georgia L. Lorenz, a faculty challenge and a student challenge. After passing the registration area, graduates will exit their vehicle, don their cap and gown and cross the stage to be recognized for their success while their family and friends, who will remain in the vehicle, look on. As graduates exit the stage, they will have a formal photo taken in their regalia before re-entering their vehicle to be driven to one of three identical photo areas to take family photos and sign a commemorative wall.
Precautions to prevent the spread of COVID-19 will be in place, allowing students to celebrate their achievement safely with family and friends. Masks will be required except when graduates are on stage or having their photo taken in the designated areas. Social distancing guidelines will be followed, and staff will be on hand to help keep the event running smoothly. To participate, graduates must have submitted an RSVP and display a car line pass in their vehicle's windshield upon arrival.
For more information about Seminole State's Spring 2021 hybrid graduation, visit seminolestate.edu/graduation.
###
About Seminole State College of Florida
Seminole State College of Florida, established in 1965, serves nearly 30,000 students across six sites in Central Florida. A comprehensive college, Seminole State has awarded more than 100,000 credentials, from bachelor's degrees to high school diplomas, and offers more than 200 degrees, certificates and programs designed for success. For more about the college, visit seminolestate.edu and get social with us:
Photo: A student in the Class of 2020 crosses the stage in Seminole State's first-ever hybrid, drive-through graduation in December 2020.
Media Contact: Kimberly Allen, Communications Coordinator, Seminole State College, allenk@seminolestate.edu