Seminole State president wins PTK Paragon Award for New Presidents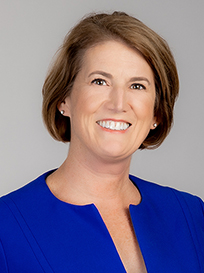 SANFORD, Fla. (Feb. 25, 2021) – For her outstanding support of student success, Dr. Georgia L. Lorenz, president of Seminole State College of Florida, has been honored with a Paragon Award for New Presidents by the international Phi Theta Kappa Honor Society (PTK). The award is given to new college presidents who demonstrate their support by recognizing academic achievement, leadership and service among high-achieving students at their college.
From the outset of her tenure as president of Seminole State College, Lorenz has promoted the idea that everyone is key to student success. In their nomination, Seminole State's PTK students noted that she exemplifies this idea through her consistent support for their chapter. She attends PTK induction ceremonies to congratulate the students, has met with the PTK student officers to discuss their project ideas, and has served as a guest speaker in the Leadership Development Studies course that is based on the PTK curriculum.
"We know the depth of each member's experience has a lot to do with the value placed on Phi Theta Kappa by college leaders," said Dr. Lynn Tincher‐Ladner, PTK president and CEO, in announcing the award. "Your nomination and selection for this award is recognition that your Phi Theta Kappa students have your support." Tincher‐Ladner also hailed Lorenz's ability to mentor and develop student leaders in the unfamiliar circumstances that 2020 brought, noting that her nomination highlighted her dedication to the success of all students – even amid a global pandemic.
Lorenz is one of 22 college presidents who will receive the Paragon Award for New Presidents during PTK Catalyst 2021, the honor society's annual convention, which will be broadcast live from Orlando, April 8-10. More than 500 college presidents were eligible for the award this year.
Seminole State is host to the Pi Lambda chapter of PTK. Pi Lambda stands for scholarship, leadership, fellowship and service. Membership is granted to those who meet specific criteria and demonstrate honor and service to others. To learn more, visit sem.st/ptk.
###
About Seminole State College of Florida: Seminole State College of Florida, established in 1965, serves nearly 30,000 students across six sites in Central Florida. A comprehensive college, Seminole State has awarded more than 100,000 credentials, from bachelor's degrees to high school diplomas, and offers more than 200 degrees, certificates and programs designed for success. For more about the college, visit seminolestate.edu, like us on Facebook at facebook.com/seminolestate and follow us on Twitter: @seminolestate. #SSC #GoStateGoFar
About Phi Theta Kappa: Phi Theta Kappa is the premier honor society recognizing the academic achievement of students at associate degree-granting colleges and helping them to grow as scholars and leaders. The Society is made up of more than 3.5 million members and nearly 1,300 chapters in 11 nations, with approximately 240,000 active members in the nation's colleges. Learn more at ptk.org.
Photo: Seminole State President Dr. Georgia L. Lorenz
Media Contact: Kimberly Allen, allenk@seminolestate.edu, 407.708.2272
Please Note: *** Due to Florida's very broad public records law, most written communications to or from College employees regarding College business are public records, available to the public and media upon request. Therefore, this e-mail communication may be subject to public disclosure.***