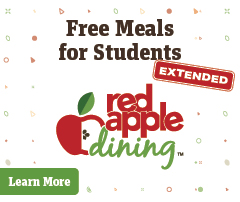 We are excited to announce that breakfast and lunch meals will remain FREE to all Seminole County Public Schools (SCPS) children and teens 18 and under through the remainder of the 2020-2021 school year.
This includes students attending face to face and all remote learners. No application is necessary to receive these free meals.
Face to face student guests: for menus and additional information about what makes our campus restaurants unique, visit RedAppleDining.com.
Remote learners and guests 18 & under: Free breakfast and lunch meals are available via our drive thru service. For additional information including drive-thru locations, pickup times and menus, visit RedAppleDining.com/RemoteMeals.
At Red Apple Dining, our mission is to nourish and enrich the lives of our guests through an exceptional dining experience. We invite you to 'experience the difference' at our campus restaurants. Please see attached flyer for information regarding our safety measures and precautions.
For future updates, follow us on Facebook and Twitter (@RedAppleDining).
Michael Lawrence, APR
Communications Officer | Office of Communications
Seminole County Public Schools
Educational Support Center
Phone: 407-320-0471