SEMINOLE STATE RECEIVES 2020 HEED AWARD
SEMINOLE STATE RECEIVES 2020 HEED AWARD
7th consecutive award for excellence in diversity and inclusion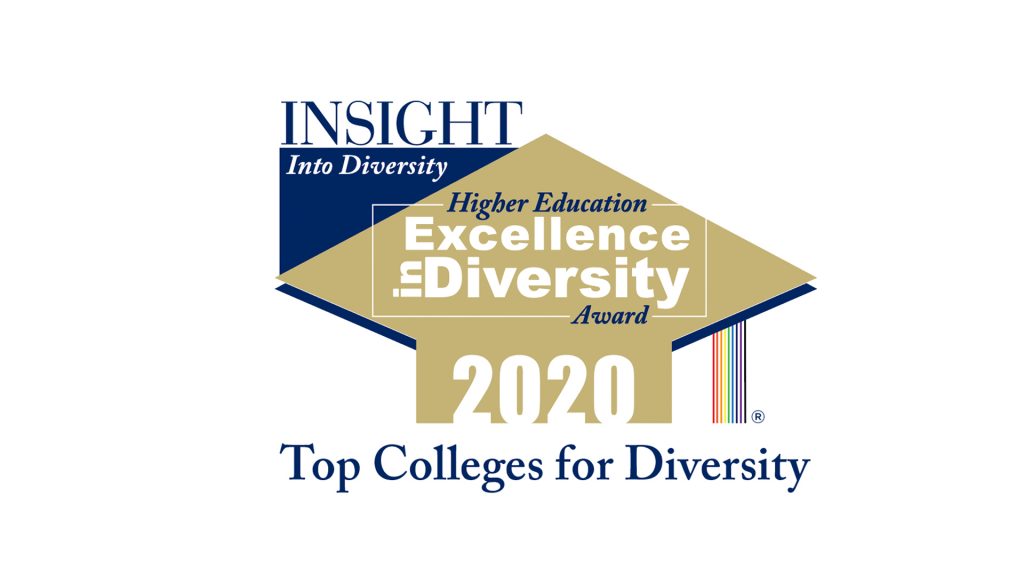 Seminole State College of Florida has once again received the 2020 Higher Education Excellence in Diversity (HEED) Award from INSIGHT Into Diversity magazine, the oldest and largest diversity-focused publication in higher education. This is the seventh consecutive year the College has been named as a HEED Award recipient.
As a recipient of the annual HEED Award, a national honor recognizing U.S. colleges and universities that demonstrate an outstanding commitment to diversity and inclusion, Seminole State will be featured, along with 89 other recipients, in the November 2020 issue of INSIGHT Into Diversity magazine.
"The innovation and inclusion displayed by Seminole State's faculty and staff have resulted in the seventh consecutive HEED Award from INSIGHT Into Diversity magazine," said Janet Balanoff, associate vice president for equity and diversity/Title IX coordinator at Seminole State. "The challenges faced by employees and students in 2019-20 were unimaginable, but commitment to the College's mission and core values did not waver. Our students, who come with diverse backgrounds, moved into remote coursework with a week's notice. Faculty met their academic needs and reached out with support for non-academic needs that helped position the students for success. Staff members created linkages to effectively replicate face-to-face, empathetic contact. The College deepened its commitment to equity and looks forward to enriching lives over the long term."
INSIGHT Into Diversity magazine selected Seminole State based on its outstanding commitment to diversity and inclusion across all four campuses as well as the College's leadership role in the community.
Here are some highlights of the College's commitment to diversity and inclusion:
The College partnered with the Dr. Martin Luther King, Jr. Celebration Steering Committee to sponsor the city of Sanford's MLK 2020 Celebration Weekend and hosted the Oratorical Contest which awarded a one-year scholarship. Students and employees attended the award gala, interfaith service, marched in the parade down Historic Goldsboro Boulevard and greeted community members at the Festival in the Park.
The class project for the College's Leadership Academy brought 200 students from the Seminole County Public Schools' Young Men of Excellence/Young Women of Excellence program to campus for a showing of the movie "Hidden Figures," the true-life story of a team of female African-American mathematicians who served vital roles at NASA during the early years of the U.S. space program. A discussion of STEM careers followed the movie presentation.
The Center for Fine and Performing Arts was forced to relocate its programs due to the sudden closure of their building and were still able to offer a full slate of activities. The center hosted Flamenco del Sol, an exhibit of photographer and Seminole State alumnus Jose' Betancourt's "Cuba: Reconstructing Memories" and welcomed Arte Bajo de Sombrilla, or "Art Under the Umbrella," for a full day of cultural presentations during Hispanic Heritage Month.
Campus-based activities reached faculty, staff and students:
President Dr. Georgia Lorenz included equity, diversity and inclusion in virtually every forum she addressed. She themed the College 2019 Convocation "Everyone is an Educator" and emphasized that everyone is key to student success. Dr. Lorenz brought Dr. Frank Harris III from San Diego State University as the Convocation keynote speaker and workshop leader. His research focuses on equitable outcomes for Black males at the community college.
Full Spectrum Support facilitated the successful adjustment and progression of college students with autism spectrum disorders (ASD). The program also arranged familiarization tours, individually if needed, to the University of Central Florida prior to the students' transfer to upper division.
The College continued its co-sponsorship of the national Black, Brown and College Bound Summit, with four students, four staff and Dr. Lorenz participating.
The African American Cultural Forum, the longest continuously-running student organization at the College, brought students together again with devoted advising and faculty members who involved the students in academic success practices and cultural familiarity.
In early June, the College recognized the twin impacts of coronavirus and racial violence as possible sources of post-traumatic stress. Dr. Lorenz convened the Joint Action Committee on Race and Social Justice to employ virtual strategies, short- and long-term, addressing students' and employees' reactions. Student leaders, employee constituent group leaders and members of executive team offered "A Time to Heal" workshops, discussions of race in America and have planned to continue the work by convening a collegewide standing committee on equity.
Faculty and staff recorded a revised version of LGBT+ Safe Space training for employees to ensure that sensitive and appropriate contacts would continue in the virtual environment.
"The HEED Award process consists of a comprehensive and rigorous application that includes questions relating to the recruitment and retention of students and employees — and best practices for both — continued leadership support for diversity, and other aspects of campus diversity and inclusion," said Lenore Pearlstein, co-publisher of INSIGHT Into Diversity magazine. "As we continue to see a record number of HEED Award applicants each year, nearly every school tells us they use the application itself as a tool to create new programs and to benchmark their accomplishments across campus. The process allows them to reflect on their successes and determine where more work needs to be done. We also continue to raise the standards in selecting HEED institutions."
Seminole State is one of only seven colleges and universities in Florida to receive a 2020 HEED Award. Florida State University, Hillsborough Community College, University of Central Florida, University of North Florida, University of South Florida, and the University of West Florida were the other Florida institutions recognized.
For more information about the 2020 HEED Award, visit insightintodiversity.com.
###
About Seminole State College of Florida
Seminole State College of Florida, established in 1965, serves nearly 30,000 students across six sites in Central Florida. A comprehensive college, Seminole State has awarded more than 100,000 credentials, from bachelor's degrees to high school diplomas, and offers more than 200 degrees, certificates and programs designed for success. For more about the college, visit seminolestate.edu, like us on Facebook at facebook.com/seminolestate and follow us on Twitter: @seminolestate. #SSC #GoStateGoFar
About INSIGHT Into Diversity
INSIGHT Into Diversity magazine is the oldest and largest diversity publication in higher education today and is well-known for its annual Higher Education Excellence in Diversity (HEED) Award, the only award recognizing colleges and universities for outstanding diversity and inclusion efforts across their campuses. In addition to its online job board, INSIGHT Into Diversity presents timely, thought-provoking news and feature stories on matters of diversity and inclusion across higher education and beyond. Articles include interviews with innovators and experts, as well as profiles of best practices and exemplary programs. Readers will also discover career opportunities that connect job seekers with institutions and businesses that embrace a diverse and inclusive workforce. Current, archived, and digital issues of INSIGHT Into Diversity magazine are available online at insightintodiversity.com
Media Contacts:
Mark Richardson, richardsonmr@seminolestate.edu
Kimberly Allen, allenk@seminolestate.edu
Please Note: *** Due to Florida's very broad public records law, most written communications to or from College employees regarding College business are public records, available to the public and media upon request. Therefore, this e-mail communication may be subject to public disclosure.***