SEMINOLE STATE RECEIVES DUKE ENERGY GRANT FOR WORKFORCE DEVELOPMENT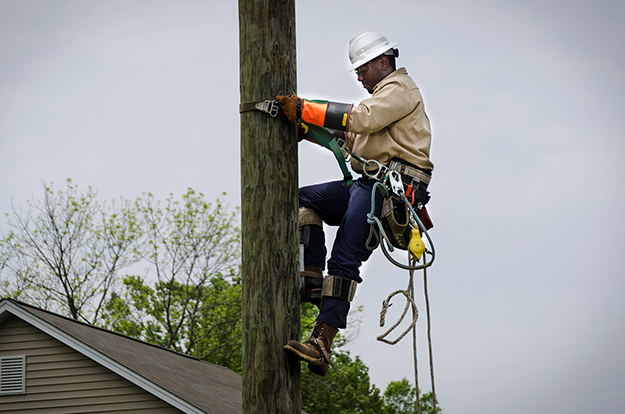 Seminole State College of Florida has received a $10,000 grant from the Duke Energy Foundation to empower communities in Central Florida by a workforce jumpstart initiative. The initiative will assist adult education students who will be concurrently enrolled in select non-credit workforce certificate programs.
The School of Academic Foundations and workforce development departments have partnered to address the financial, academic and career readiness gaps experienced by students working to obtain their GED or high school diploma.
"This grant from the Duke Energy Foundation will provide support for a great pathway for our adult education students pursuing a high school diploma," said Associate Vice President of the School of Academic Foundations Frank Bonjione. "By enrolling in the workforce certificate programs concurrently, the students can reach their goals of working a fulfilling and lucrative career faster, thus benefitting themselves, their families and our communities."
This grant not only supports Seminole State's workforce efforts, but also the mission of Governor Ron DeSantis for Florida to become the national leader in workforce education by 2030. Adult education students wishing to enroll concurrently in one of Seminole State's workforce certificate programs can choose between electrical, HVAC or the building trade technologies. Through the jumpstart initiative, students can apply for financial assistance to help pay for their first semester of courses, labs and books.
Additionally, as official students enrolled in the certificate programs, the students will have access to other College academic resources including the Student Transition and Achievement Resources (STAR) Center and the Career Development Center. With these additional resources, students can prepare for either further schooling or their professional careers.
This is the fourth grant that the College has received from the Duke Energy Foundation since 2018.
To learn more about programs in Seminole State's School of Academic Foundations, visit seminolestate.edu/adult-ed.
###
About the Duke Energy Foundation
The Duke Energy Foundation provides philanthropic support to meet the needs of communities where Duke Energy customers live and work. The foundation contributes more than $30 million annually in charitable gifts and is funded by Duke Energy shareholder dollars. More information about the foundation and its Powerful Communities program can be found at duke-energy.com/foundation.
About the Foundation for Seminole State College
The Foundation for Seminole State College, founded in 1968, is a not-for-profit, 501(c)(3) corporation that enhances the College's programs and services through the development and management of private contributions, public grants and community partnerships. For more information, visit seminolestate.edu/foundation or email the Foundation directly at foundation@seminolestate.edu.
About the School of Academic Foundations
Seminole State's School of Academic Foundations offers year-round GED preparatory classes to adult students, an Adult High School program that provides students a personalized education and English Language Studies programs that help students reach personal, educational and professional goals.
Photo: Duke Energy lineman Joseph Brown climbs a pole to perform maintenance work. (Photo courtesy: Duke Energy)
Media Contacts:
Emily Hollingshead, hollingsheade@seminolestate.edu
Kimberly Allen, allenk@seminolestate.edu