SEMINOLE STATE JOINS FIRST SCHOLARS TO SERVE FIRST-GENERATION STUDENTS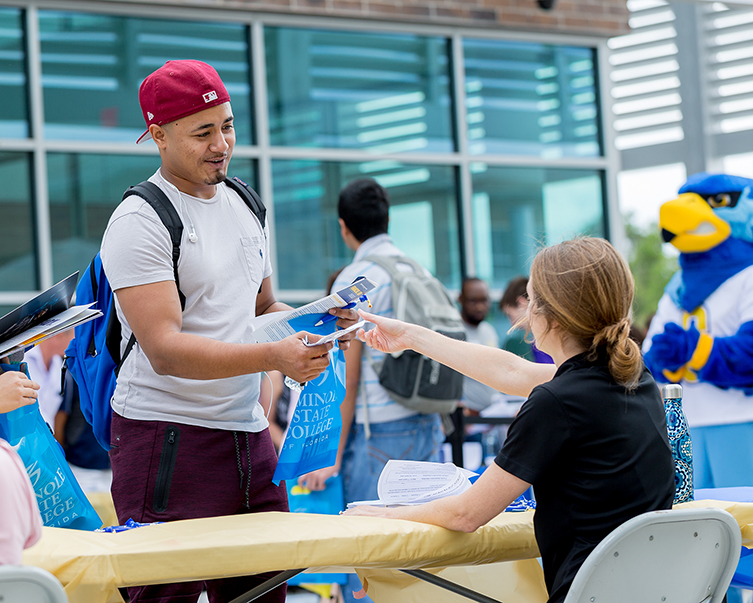 SANFORD, Fla. (June 29, 2020) – Seminole State College of Florida has been selected to join the inaugural cohort of First Scholars Network institutions after demonstrating a commitment to advancing the outcomes of first-generation students through improving both student success initiatives and institution-wide approaches.
First Scholars was created by the Center for First-generation Student Success, an initiative of NASPA – Student Affairs Administrators in Higher Education and The Suder Foundation. The First Scholars Network supports institutional efforts to scale programmatic initiatives to support first-generation students throughout their student lifecycle.
"Our programs for First Generation Freshman, such as the Peer Mentor Program and dedicated staff for advising, are focused around building the students' support system and confidence at the College," said Dr. Jan Lloyd, associate vice president of Student Development. "Easing the transition into college for these students and giving them a strong start to their college career increases their likelihood of accomplishing their goals."
Seminole State joins 31 institutions in the network that are building on already successful programs and adapting them to suit the needs of first-generation students. Using clearly defined, measurable goals and data to track progress, the First Scholars institutions look to help leadership make informed choices resulting in improved outcomes for these students.
"First Scholars provides a unique balance of bringing first-generation student initiative scaling into focus while drilling down into how Seminole State recalibrates institutional systems to elevate potential and advance outcomes for first-generation students. This approach positions Seminole State to be a leader in first-generation student success," said Dr. Kevin Kruger, president and CEO of NASPA.
Seminole State's First Generation Freshman Program provides first-generation, first-time-in-college students with the support and skills needed to be successful in college and complete a degree by offering comprehensive support services, resources, and student programs and activities. To learn more, visit seminolestate.edu/first-generation.
###
About Seminole State College of Florida
Seminole State College of Florida, established in 1965, serves nearly 30,000 students across six sites in Central Florida. A comprehensive college, Seminole State has awarded more than 100,000 credentials, from bachelor's degrees to high school diplomas, and offers more than 200 degrees, certificates and programs designed for success. For more about the college, visit seminolestate.edu, like us on Facebook at facebook.com/seminolestate and follow us on Twitter: @seminolestate. #SSC #GoStateGoFar
About NASPA
NASPA—Student Affairs Administrators in Higher Education is the leading association for the advancement, health, and sustainability of the student affairs profession. Its work provides high-quality professional development, advocacy and research for 15,000 members in all 50 states, 25 countries and 8 U.S. territories. Visit naspa.org for more information.
Photo SSC_First_Scholars: First Generation Freshman program staff share information with students at the Discover Seminole State event in Fall 2018. Now Seminole State has been selected for the First Scholars Network after demonstrating commitment to first-generation student success.
Media Contacts:
Emily Hollingshead, hollingsheade@seminolestate.edu
Kimberly Allen, allenk@seminolestate.edu
Please Note: *** Due to Florida's very broad public records law, most written communications to or from College employees regarding College business are public records, available to the public and media upon request. Therefore, this e-mail communication may be subject to public disclosure.***