The Sharing Center to Host Community-Centric Virtual Fundraising Event – Sweet Bites & Bikes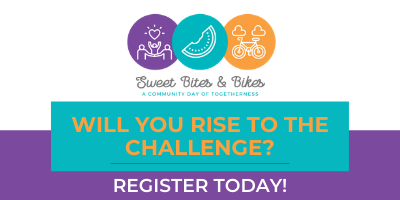 Funds raised will help raise the necessary funds to continue providing essential resources for our neighbors experiencing poverty, especially during these extraordinary times.

LONGWOOD, FL, June 25, 2020 — Since the onset of the Coronavirus pandemic, The Sharing Center has remained open to serve every neighbor experiencing the burdens of poverty and personal hardships. It is imperative we continue providing essential resources to our community, especially during these extraordinary times.
Therefore, The Sharing Center converted its annual fundraising event, Sweet Charity, into a virtual community day of togetherness.
Participants are invited to pledge to bike 34 miles or run/walk 3.4 miles in recognition of the 34 years The Sharing Center has worked to relieve our community from the burdens of poverty. Funds raised during this event will help provide urgently needed financial assistance, a place to receive a warm shower and laundry service or gift a child with a new pair of shoes for the school year.
All participants will receive a finisher's medal. Plus, everyone who registers as a fundraiser will have a chance to win a 4-pack of Disney tickets (good thru October 2021), Corksicle, restaurant gift cards, and other great rewards.
Sponsorship opportunities are available. Contact Margaux Pagán for more information at margaux.pagan@thesharingcenter.org.
For more information about Sweet Bites & Bikes and how you can participate as an individual, team, or sponsor, visit: http://thesharingcenter.org/sweetbitesandbikes.
##
The Sharing Center
Since 1986, The Sharing Center, a Christian-centered 501(c)3 nonprofit organization, has served the most vulnerable throughout Seminole County to prevent hunger and homelessness locally. Over 15,000 individuals annually receive wrap-around support to uplift them and their families out of crisis and into stability.
Over 90¢ of every $1.00 donated to The Sharing Center goes directly to life-changing programs such as Food Pantry, Families in Crisis, and LifeBuilder. The Sharing Center is also home to the Oasis, the only drop-in resource center in the county, for individuals who are homeless where showers, laundry service, computer access, and housing assistance are provided. Last year, over 1,500 volunteers joined the mission and provided over 42,000 hours of their time to support these ongoing programs and the clients who they serve. In April 2019, Nina Yon, President & CEO, joined The Sharing Center to align the organization with the growing need of the community. For more information about The Sharing Center, email: inquiry@thesharingcenter.org or call (407) 260-9155.