A safe place to receive care that can't wait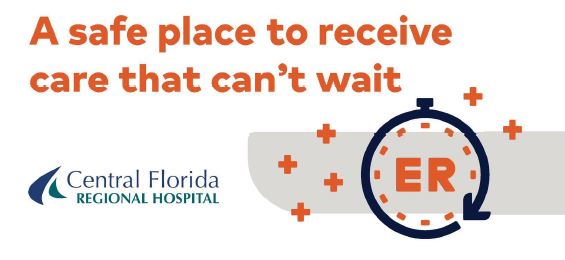 Central Florida Regional Hospital is staffed with experienced clinicians who stand ready to assist patients with every health emergency, such as trauma, heart attack, stroke, gastrointestinal issues and respiratory emergencies, including COVID-19.

Central Florida Regional Hospital is proactively engaged in the safe management of COVID-19, and have initiated enhanced safety procedures to ensure the safety of its colleagues, patients and visitors. As part of HCA Healthcare, the nation's largest healthcare network, we have access to resources and best practices from throughout the country we are implementing along with recommended protocols from the CDC and Florida Department of Health in Seminole County.

As always, the emergency department continues to be a safe place to seek medical attention, no matter the health concern. Emergency health needs do not stop for a pandemic, and neither does Central Florida Regional Hospital. Don't wait to seek care if you experience emergency symptoms. Visit CentralFloridaRegional.com/COVID-19 to learn more.