RiverWalk Phase 3 Seminole Blvd. Road Closure starts April 20th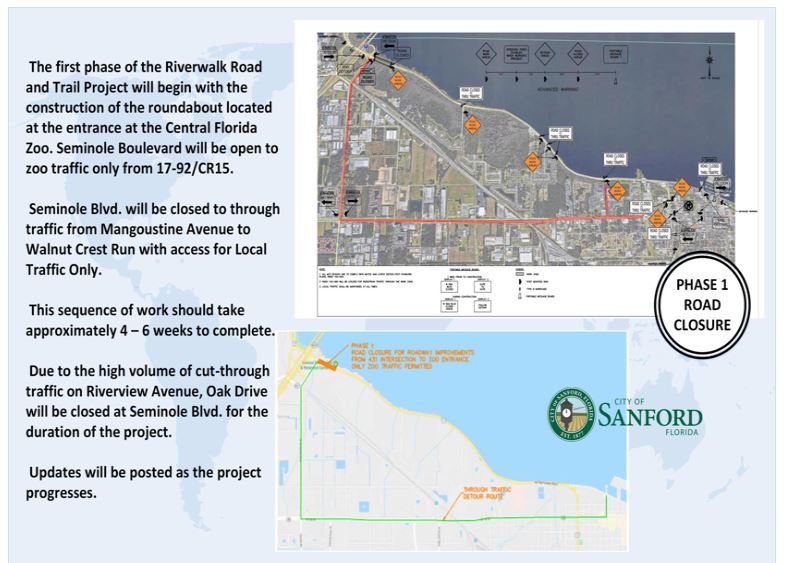 At almost three and a half miles long, the construction of Sanford's $14 million dollar RiverWalk seawall was complete end of 2019. The next step in Phase 3 will be the roadway and trail portion.
The scheduling of Phase 3 is extensive and intensive because of the size and length of the project. The contractors Notice To Proceed date was April 6, 2020. You should start seeing some activity towards the middle of April. When complete, the RiverWalk will be an international attraction right here in Sanford.
Detour Overview
W. Seminole Blvd. Detour Plan
Update – April 13, 2020 – The contractor for the RiverWalk plans to close Seminole Blvd. in phases starting Monday April 20th. The plan is to start down by the zoo and construct the roundabout there and progressively move east with the sequencing.
As of March 11, 2020, the Project Team is in the pre-construction planning stage of the project. The project has been awarded to Masci General Contractors. There are quite a few logistical items concerning traffic and project sequencing that have to be worked out before our pre-construction conference on March 25.
The RiverWalk project is of regional importance, critical to the connectivity of many communities. It will be an integral part of the statewide bike and pedestrian network. Located along beautiful Lake Monroe's south shore (a state designated scenic highway), this project will provide one of the most pristine bike and pedestrian experiences second to none in Florida, offering residents and visitors a spectacular view of Florida's unique and unspoiled waterway, right here in Sanford!
We ask that the public be patient while we construct this exciting new chapter in Sanford's history.