Central Florida Zoo and Botanical Gardens' Iconic Entrance Artwork Slated for Removal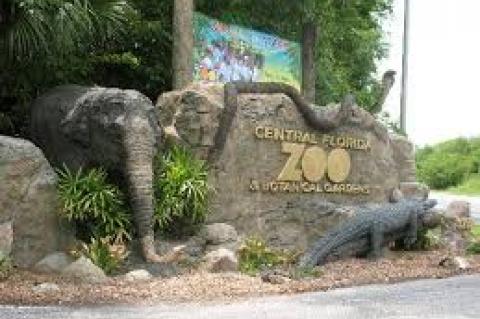 SANFORD, Fla., April 9, 2020—As part of Phase III of the City of Sanford's RiverWalk Project, the Central Florida Zoo & Botanical Gardens' iconic entrance artwork will be removed this week. The two concrete structures flanking the Zoo's entrance road will be dismantled to make way for the next phase of the RiverWalk construction project, which will include roadway improvements and construction of the trail.
In 2009, the illuminated front entrance artwork was completed by former Zoo primate keeper and sculpture artist, Eric McCarty. The sculptures were created by hand and featured lifelike replicas of Zoo animals, including an alligator, an elephant, as well as several different bird and reptile species.
"The concrete structures marking the Zoo's entrance have been a landmark for the community traveling along West Seminole Boulevard, formerly known as 17-92, for more than a decade," said Dino Ferri, Zoo CEO. "The sculptures represented the past, present, and future of the Zoo. While this marks the end of an era, it is also an opportunity for a new beginning. As the City of Sanford transitions to being more pedestrian and bicycle friendly, along the River of Lakes Heritage Corridor, we're excited for the opportunity to be a destination for people utilizing these new trails."
The Zoo will be working closely with Masci General Contractors, who were awarded the contract to oversee the next phase of the RiverWalk Project, on the removal of the entrance artwork while the Zoo remains closed to the public due to the coronavirus.
The west side of the Zoo's entrance sign was damaged in 2018 by a drunk driver. Due to the cost to repair the structure, and the expected expansion of the RiverWalk, the Zoo decided to forgo repairs at that time.
Plans for new entrance signage for the Central Florida Zoo & Botanical Gardens have not yet been finalized, as work on the RiverWalk Project and West Seminole Boulevard are expected to continue over the next 18 months.