DECISION DAY AT SEMINOLE STATE WELCOMES OVER 1,000 SCPS SENIORS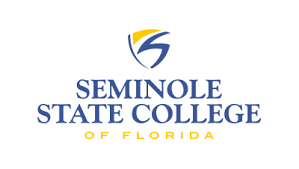 More than 1,000 Seminole County Public School seniors took a field trip to their future on Friday, Feb. 14 taking part in Seminole State College of Florida's annual Decision Day to learn all there is to know about the College.
Students from Crooms, Hagerty, Lake Brantley, Lake Howell, Lake Mary, Lyman, Oviedo, Seminole and Winter Springs high schools took part. The event, hosted by the Admissions Office on the Sanford/Lake Mary Campus, gave students the opportunity to learn more about the programs and services offered at the College.
"Decision Day is all about the high school students and their futures," said Vice President of Student Affairs Johnny Craig. "It really is an exciting time in their lives so we match that energy and showcase all the career options, opportunities and programs we have to help them reach their goals here at Seminole State."
Students connected with admissions staff to explore their options for majors and complete their Seminole State application. Faculty and staff were on hand to answer any questions the students had about the numerous degree programs including:
College programs including the Grindle Honors Institute, student life and intramurals were there to show students what life at Seminole State is like beyond the classroom.
Students took part in group discussions, enjoyed a pizza lunch and explored the Sanford/Lake Mary Campus.
To learn more about all of the degree programs available at Seminole State, contact the Admissions Office at 407.708.2050 or at admissions@seminolestate.edu.
###
About Seminole State College of Florida: Seminole State College of Florida, established in 1965, serves nearly 30,000 students across six sites in Central Florida. A comprehensive college, Seminole State has awarded more than 100,000 credentials, from bachelor's degrees to high school diplomas, and offers more than 200 degrees, certificates and programs designed for success. For more about the College, visit seminolestate.edu, like us on Facebook at facebook.com/seminolestate and follow us on Twitter: @seminolestate.
Media Contacts:
Emily Hollingshead, 407.708.2543, hollingsheade@seminolestate.edu
Mark Richardson, 407.708.2418, richardsonmr@seminolestate.edu
Please Note: *** Due to Florida's very broad public records law, most written communications to or from College employees regarding College business are public records, available to the public and media upon request. Therefore, this e-mail communication may be subject to public disclosure.***