AWARD-WINNING ARTIST'S EVOCATIVE CHALK WORK COMING TO SEMINOLE STATE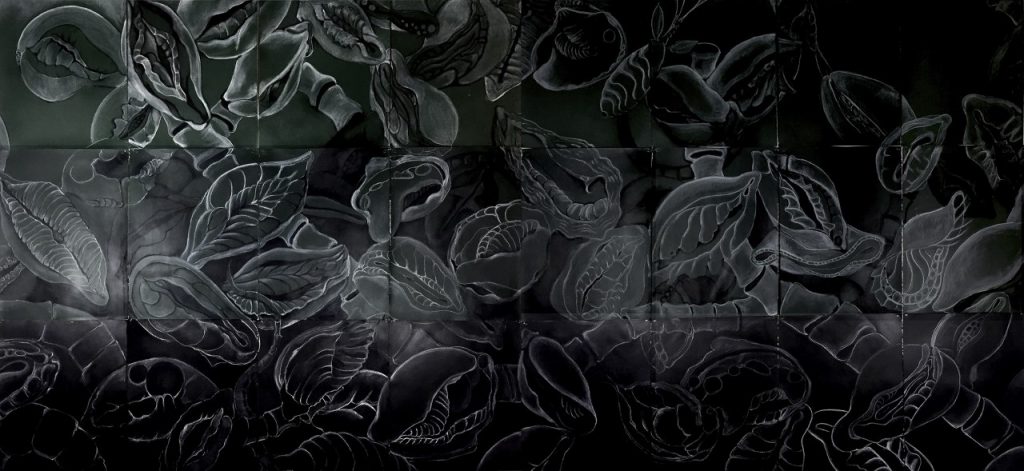 SANFORD, Fla. (Feb. 6, 2020) – Artist Susan Hensel's gallery exhibit "Eros and Thanatos" will be on display at Seminole State College of Florida's Center for Fine and Performing Arts from Feb. 13 – March 16. The exhibit features chalkboard images that incorporate oval, floral and undersea themes that are evocative of birth, life and pleasure. According to Hensel's website, the artwork in the series is "a consideration of beauty while still acknowledging pain and brokenness."
Hensel received her Bachelor of Fine Arts from the University of Michigan in 1972 with a double major in painting and sculpture with a focus in ceramics. She has taken part in over 200 exhibitions, with 32 solo exhibits and 20 award-winning showings. Her work has been collected nationwide by libraries and museums including the Museum of Modern Art in New York City and the Getty Research Institute in Los Angeles. Outside chalk work, Hensel has created pieces with paints, pastels, textiles, charcoal and other mixed-media components.  
Beyond her art, Hensel runs her own gallery, the Susan Hensel Gallery, where she has curated over 70 exhibits of emerging and mid-career artists from the U.S. and Canada.
Hensel will be present during the "Eros and Thanatos" opening reception Feb. 13 at 5 p.m. The event is free and open to the public. For more information, visit seminolestate.edu/gallery.
Susan Hensel: Eros and Thanatos
Sanford/Lake Mary Campus, building J (J-109)
Feb. 13 – March 16
Monday – Thursday, 9 a.m. – 4:30 p.m.
Opening Reception: Feb 13, 5 p.m.
Free