Central Florida Zoo & Botanical Gardens to Offer Exclusive Discounts to the Asian Lantern Festival: Into the Wild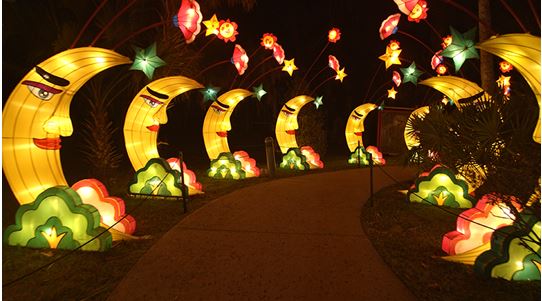 SANFORD, Fla., December 10, 2019—The Central Florida Zoo & Botanical Gardens is offering exclusive discounts for the Asian Lantern Festival: Into the Wild on select days throughout December.
The Asian Lantern Festival: Into the Wild has transformed the Zoo into a dazzling evening experience full of color, light, and sound. This event, in partnership with Tianyu (tē-än-yōō) Arts & Culture, Inc. celebrates the culture, art, and beauty of traditional Asian lantern festivals and features 35 larger-than-life, handcrafted lantern elements illuminated with 10,000 LED lights along a ¾ mile trek through the Zoo.
"This is the first time we've brought this event to the Zoo and it's the only of its kind in Central Florida," said Dino Ferri, the Zoo's CEO. "We're excited for everyone in our community to experience it in-person. We want as many people as possible to be able to come out and enjoy it."
On scheduled discount evenings, those eligible will receive admission to the Asian Lantern Festival for the discounted rate of $15.50 per person for their entire party. Tickets must be purchased in-person at the event's ticket table and are available as long as the event has not sold out for the evening. Discounts cannot be applied to tickets already purchased online.
Exclusive Discount Nights:
Thursday, December 12 Florida Government Employees Night All Florida state, county, and city employees. Must present copy of state/city/county ID or proof of employment.
Sunday, December 15: Military, Law Enforcement, and First Responders Military includes active duty, current guard/reserve members, non-active duty, retirees, and veterans. Must show valid ID and present valid military ID or DD214. Law Enforcement and First Responders (All Branches) must show proper ID verifying service.
Wednesday, December 18: Senior Night Seniors include any guest over the age of 60. Valid ID required.
Thursday, December 19: Teacher Night All public or private school teachers. Must present copy of school/teacher ID or printout verification.
Those eligible for the special discount can still receive the special four pack ticket pricing of $50.00. More information is available at www.centralfloridazoo.org/lanterns.